Organization of IAARC
IAARC is a not-for-profit-organization (NPO) that uses its membership dues to develop services for, and facilitate and maintain communication between its members. IAARC is managed by its board whose directors and presidency continually change. The dynamic nature of the Association ensures that fresh ideas are brought into the organization whilst benefiting from the experience of others.
The organizational structure of IAARC is: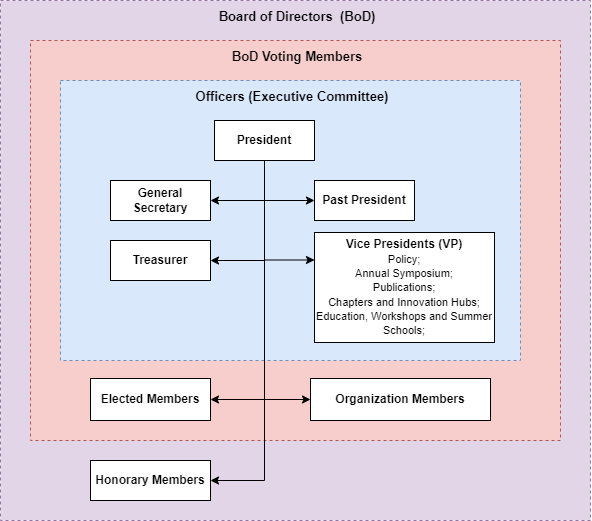 The Board of Directors (BOD) meets annually during the ISARC symposium and has some virtual meetings throughout the remainder of the year. The members of IAARC's executive board are the President, the Vice-Presidents, the Past President and the General Secretary. Their activities involve: take responsibility for the association; approach new members; initiate and prepare board meetings; create reports for the annual BOD-meeting, i.e. membership status, financial statement and the budget for the coming years. The constitution of IAARC can be found here.
President
| | | | |
| --- | --- | --- | --- |
| Hyoungkwan | Kim | Yonsei University | Republic of Korea |
Past President
| | | | |
| --- | --- | --- | --- |
| Frédéric | Bosché | University of Edinburgh | United Kingdom |
Vice-Presidents
| | | | | |
| --- | --- | --- | --- | --- |
| Policy and Finance | Frédéric | Bosché | University of Edinburgh | United Kingdom |
| Publications | Ioannis | Brilakis | Cambridge University | United Kingdom |
| Annual Symposium | Yong | Cho | Georgia Institute of Technology | USA |
| Chapters and Innovation Hubs | Thomas | Linner | OTH Regensburg | Germany |
| Education, Workshops and Summer School | Benny | Raphael | I.I.T. Madras | India |
| Communication | Yelda | Turkan | Oregan State University | USA |
General Secretary
| | | | |
| --- | --- | --- | --- |
| Borja | Garcia de Soto | NYU Abu Dhabi | United Arab Emirates |
Treasurer
| | | | |
| --- | --- | --- | --- |
| Johnson Xuesong | Shen | UNSW Sydney | Australia |
Elected BOD Members
| | | | |
| --- | --- | --- | --- |
| Burcu | Akinci | Carnegie Mellon University | USA |
| Mohamed | Al-Hussein | University of Alberta | Canada |
| Thomas | Bock | Technical University Munich | Germany |
| Alexey | Bulgakov | Ministy of education and science of Russian federation | Russia |
| Alessandro | Carbonari | Università politecnica delle marche Ancona | Italy |
| Daniel | Castro | Georgia Institute of Technology | USA |
| Hung-Ming | Chen | National Taiwan University of Science and Technology | Taiwan R.O.C. |
| Po-Han | Chen | National Taiwan University | Taiwan |
| Chen | Feng | New York University | USA |
| Raul | Fuentes | RWTH Aachen | Germany |
| Borja | García de Soto | NYU Abu Dhabi | UAE |
| Quang | Ha | University of Technology, Sydney | Australia |
| Carl T. | Haas | University of Waterloo | Canada |
| Daniel | Hall | TU Delft | Netherlands |
| Amin | Hammad | Concordia University | Canada |
| Kepa | Iturralde | Technical University Munich | Germany |
| Vineet | Kamat | The University of Michigan | USA |
| Markus | Kőnig | Ruhr-University Bochum | Germany |
| Soonwook | Kwon | Sungkyunkwan University | Republic of Korea |
| Zoubeir | Lafhaj | EC Lille | France |
| Nan | Li | Tsinghua University | China |
| Bharadwaj | Mantha | NYU Abu Dhabi | UAE |
| Wei | Pan | University of Hong Kong | Hong Kong |
| Saiedeh | Razavi | McMaster University | Canada |
| Annop | Sattineni | Auburn University | USA |
| Isaac | Shabtai | Ben Gurion University of the Negev | Israel |
| Xuesong | Shen | University of New South Wales | Australia |
| Piotr | Szynkarczyk | Łukasiewicz Research Network – Industrial Research Institute for Automation & Measurements PIAP | Poland |
| Jochen | Teizer | Technical University of Denmark (DTU) | Denmark |
| Xiangyu | Wang | Curtin University | Australia |
| Józef | Wrona | Łukasiewicz Research Network – Industrial Research Institute for Automation and Measurements PIAP | Poland |
| Zhenhua | Zhu | University of Wisconsin | USA |
Honorary BOD Members
| | | | |
| --- | --- | --- | --- |
| Yukio | Hasegawa | Waseda University – Tokyo | Japan |
| Ronie | Navon | Technion – Israel Institute of Technology | Israel |
| Miroslaw | Skibniewski | University of Maryland | USA |
| Richard L. | Tucker | The University of Texas at Austin | USA |
Past BOD Members
TatsuoAraiOsaka UniversityJapan
| | | | |
| --- | --- | --- | --- |
| Pär | Åhman | Swedish Construction Federation | Sweden |
| Carlos | Balaguer | Universidad Carlos III de Madrid | Spain |
| Burcin | Becerik-Gerber | University of Southern California | USA |
| Carlos | Caldas | University of Texas at Austin | USA |
| Min-Yuan | Cheng | National Taiwan University of Science and Technology | Taiwan R.O.C. |
| Jack C P | Cheng | The Hong Kong University of Science and Technology | Hong Kong |
| Moon Young | Cho | Korea Institute of Construction Technology | Republic of Korea |
| Hiroshi | Furuya | Obayashi Corporation | Japan |
| Ernesto | Gambao | Univesidad Politecnica de Madrid | Spain |
| Frans | van Gassel | Eindhoven University of Technology | The Netherlands |
| Chang-Soo | Han | Hanyang University | Republic of Korea |
| Ferri | Hassani | McGill University | Canada |
| Daehie | Hong | Korea University Seoul | Republic of Korea |
| Imad | Itani | ALEC | UAE |
| Junbok | Lee | Kyung Hee University | Republic of Korea |
| Osama | Moselhi | Concordia University | Canada |
| JongWon | Seo | Hanyang University Seoul | Republic of Korea |
| Koshy | Varghese | I.I.T. Madras | India |